Gutter Installation Services
|Reliable Gutter Installation and Repairs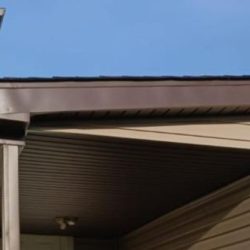 At Monroy Contractors LLC, we offer professional installation, replacement and repair of gutters and downspouts. We have experienced technicians, and the latest equipment needed to get the job done right.
Your gutters do more than just keep water away from your house. They protect your roof, siding and foundation. Whether you have leaks, storm damage, soffit and fascia damage, or your gutters are pulling away from your roof, our team can help. Call us today for a free estimate.
|

Get the Highest-Quality Gutter Services
Pole gutter reconstruction
Downspouts
Gutter repairs
Seam resealing
Heavy-gauge aluminum
Hidden hanger systems
Gutter guards available
5- and 6-inch widths available
Stay safe and call us for a free estimate on your gutter repairs.